The Water Research and Technologies Center, represented by Prof. Hanene Akrout, InTheMED co-coordinator in Tunisia, attended the second edition of Mediterranean Geosciences Union- Springer MedGU 2022, which took place from 27 to 30 November 2022 at the center of Cadi Ayyad University in Marrakech – Morocco.
The Mediterranean Geosciences Union (MedGU) aims to create a unique federation that brings together and represents the Mediterranean geoscience community specializing in the areas of Earth, planetary and space sciences. Hundreds of participants from all over the world attended this second MedGU Annual Meeting 2022, making it one of the largest and most prominent geosciences event in the region. Over 1300 abstracts have been submitted from 95 countries. The meeting's sessions covered a wide range of topics with more details available on the Conference Tracks.
Prof. Hanene Akrout participated in this forum with an oral communication entitled: "HRMS-based Innovative Monitoring of Grombalia Groundwater (Tunisia) (Hanene Akrout, Hatem Baccouche, Thuraya Mellah, Lobna Mansouri, Ahmed Ghrabi). This study was carried out in the framework of the InTheMED Project.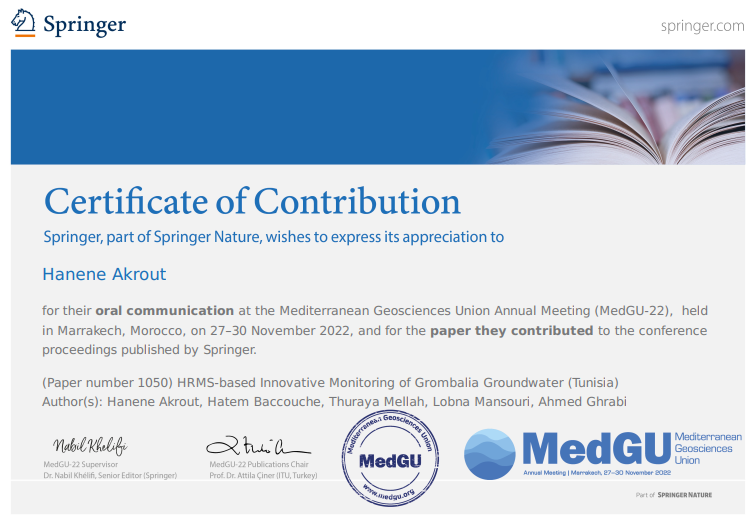 Prof Hanene Akrout led as well two sessions as chairman during this conference :
Session 1: Track 2. Biogeochemistry, Geobiology, Geoecology, Geoagronomy
Session 2: Track 4. Environmental Earth Sciences